News
September 10, 2021
The Costumer Opens New Retail Location in Mohawk Harbor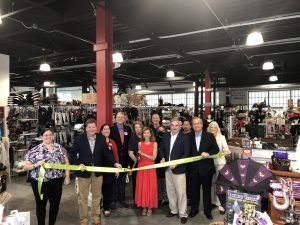 On Thursday, September 9, the Chamber took part in the official grand opening and ribbon cutting to celebrate The Costumer's relocation of their Retail Superstore to the vibrant Mohawk Harbor at 220 Harborside Drive in Schenectady, enhancing their 104 year presence in their hometown of Schenectady.
Their brand of "shoppertainment" aligns perfectly with Mohawk Harbor's "Live, Work, Stay, Play" concept including its casino, hotels, events and restaurants.  Being among the first tenants, The Costumer also has a spacious new and modern retail space designed to provide the most enjoyable and fun year-round shopping experience.  Mohawk Harbor replaces the longstanding store location at 1995 Central Avenue in Colonie.
Since 1917, The Costumer has been a multi-generational tradition in the Capital Region, offering costumes, dancewear, wigs, makeup and accessories locally through its Superstore and nationally through their theatrical costume rental services and e-commerce operations.  In addition, The Costumer has a warehouse on Barrett Street in Schenectady that houses over 150,000 rental costumes.  The Costumer typically serves over 1,000 shows per year, with over 32,000 costume rentals to theatre programs, films, and television productions.  The Barrett Street warehouse location also provides costume rentals directly to individuals and groups in the community.
The Capital Region holds a special place to owners Erik and Bonnie Johnsen.  The Johnsens met as students at UAlbany and are delighted to be back "home" after Erik's career in international banking took them around the world.   Erik's background in technology and operations along with Bonnie's in both marketing and education complement each other as an asset to the business.
The Costumer is locally owned and operated with unparalleled customer service, product selection, year-round operations, and community involvement.  This has been true for over a century.  The Costumer does not just "pop-up" at Halloween only to vanish like the other far away national brands.  "This is our community; this is our home," the Johnsens proudly state.
All ribbon cuttings are sponsored by Saratoga National Bank and Trust Company.