News
June 25, 2021
Take Two Cafe Makes it Official with a Ribbon Cutting in Downtown Schenectady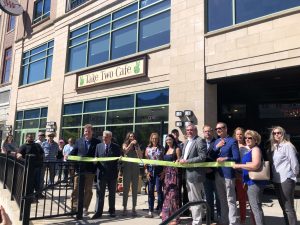 The Chamber was thrilled to end their three ribbon cutting day at Take Two Café on Thursday, June 24. The Chamber was joined by Ambassadors, delegates, local business owners and many friends and family. The combination of the weather and the energy made the outdoor ribbon cutting extra special.
Take Two Café offers vegan breakfast sandwiches, delicious lunch specials, various coffee products and homemade lemonade/tea based on Chelsea's passion for food located at 433 State St. in the City of Schenectady
Chelsea Heilmann, the owner, is a resident of Schenectady and a graduate of SUNY Cobleskill.  All of the recipes are created by Chelsea and she is proud to offer authentic vegan recipes from around the world along with great service and support from her supporters.
Chelsea has been recognized for her outstanding commitment in the Vegan community, beautiful new café location and her use of only the freshest ingredients, which are inspired by her world travels (globe trotting Chelsea). She is fearless and her determination to again open a new successful business should inspire us all!
Chelsea's new café location is a continuation of her vegan products and her commitment to the environment to use only plant based products and her commitment to our environment
Chelsea has continued to maintain her presence in Downtown Schenectady, thanks to Metroplex introducing her to this space. Chelsea is active in the Jay St. Business Development community and is looking forward to introducing one person at a time to plant based foods and her varied menu items which makes Take Two Café unique.
All ribbon cuttings are sponsored by Saratoga National Bank and Trust Company.