News
August 3, 2022
"Summer Sunday Stroll of Saratoga Spa State Park" 10 Tickets Remaining!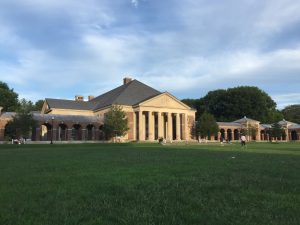 Discover the architecture, landscape, and development of the National Historic Landmark Saratoga Spa State Park during Summer Sunday Stroll "The Spa Complex," with Linda Harvey on August 7 at 10:30AM. Do not wait to reserve your spot for this stroll because it is nearly sold out! This tour, sponsored by Putnam Market, meets outside of the Hall of Springs located at 108 Avenue of the Pines.
Thanks to an overwhelming response, next Sunday's Summer Stroll "Mail Order Houses of Saratoga" on August 14 is SOLD OUT! Madison C. Squires will lead this tour, sponsored by Seeley Office Systems, which features houses on East and Pinewood avenues. The tour highlights the "Kit House" era – a time when the average person could not only put a check through the mail, but order and receive an entire house as well. The Foundation hopes to offer this tour again in the fall. Additional tours this summer highlight the area surrounding the Saratoga Race Course, the Gut, and the neighborhood where Skidmore College's first campus was located.
The Foundation is particularly grateful for the generous support of 2022 Series Sponsor Druthers Brewing Company, as well as Summer Series Sponsors Bonacio Construction, Burns Management, and Stewart's Shops. All Sunday morning tours last approximately 90 minutes and require walking and standing on varied terrain. Tours are limited to 30 and tickets must be purchased in advance. The cost per tour is $15 for SSPF members and $20 for non-members. Foundation members with stroll passes need to contact the Foundation's office to book their Sunday Summer Stroll prior to the date of the stroll they chose.
Join the Foundation on Tuesday, August 23 at 9:30AM for an exclusive, two-hour Members-Only Tour of the Saratoga Race Course. Executive Director Samantha Bosshart will lead a tour of the rich history and architecture of not only the front side of the track, but also the backside, the areas not everyone is able to see. Guests will travel by tram, compliments of the New York Racing Association, to see the buildings that the public may be familiar with – the Grandstand, Clubhouse, and the 1863 Club; buildings in the backyard – the Saddling Shed and the new Post Bar; as well as the areas not normally available to the public – such as Horse Haven, Clare Court, and the original 1847 track.
The Members-Only Tour of the Saratoga Race Course will be limited to 32. Tickets must be purchased in advance and cost $45. If you are not a current member of the Saratoga Springs Preservation Foundation, one can easily join. Membership levels start at $35 with various benefit options.
For additional information or to purchase tickets to any of the upcoming strolls or events, please visit www.saratogapreservation.org, call (518) 587-5030, or email Jacqueline Bunge, Events & Programs Coordinator, at jbunge@saratogapreservation.org.