News
April 26, 2021
Stefanie's Beauty Supply Opens in Clifton Park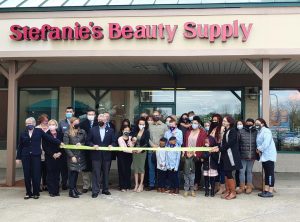 The Chamber was honored to take part in a ribbon cutting for a black and woman-owned business in Clifton Park on Thursday, April 22nd.  Stefanie Thomas, owner of Stefanie's Beauty Supply, was accompanied by a strong showing of local and state elected officials. She also had a large showing of support from her family, friends and business leaders.
Stefanie Thomas is a Glens Falls native with a master's degree in criminal justice from Boston University. She began teaching at Hudson Valley Community College upon graduating until COVID forced her to stay home in the fall of 2020. It was then that she was able to focus on a new endeavor: opening a beauty supply store. By late December 2020, she opened the doors.
Growing up black in a predominantly white area, Stefanie struggled with fitting in and struggled even more so with finding products for her kinky curly hair. Forced to buy online or drive 45+ minutes to the nearest beauty supply store has always been an inconvenience and one she felt should not exist. As a mother of a young Black daughter, she did not want her daughter to endure the same struggle. Stefanie wanted to do something positive for her community and decided to open a store right in Clifton Park where she, her husband, and their four children reside.
Stefanie's Beauty Supply is not your typical supply store. While hair, wigs, extensions, and products for women, men and children are easily accessible, there is also a self-empowerment wall for kids to come in write on and get their picture taken as well as a great selection of children's books that promote self-love, embracing hair and skin color and tackle stereotypes and racism.
All ribbon cuttings are sponsored by Saratoga National Bank & Trust Company.