News
January 19, 2023
St. Anne Institute Ribbon Cutting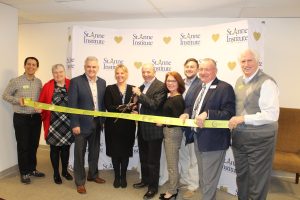 The St. Anne Institute (stanneinstitute.org) is expanding its mental health services in Rensselaer County, with grant assistance from Rensselaer County Commissioner of Mental Health Kathy Coons and the office of County Executive Steve McLaughlin.  A ribbon cutting was held at their offices at 1801 6th Ave (2nd floor) in Troy.  Capital Region Chamber Senior Vice President Pete Bardunias emceed the event, featuring presentations by Mr. McLaughlin and Ms. Coons as well as Michael Zembricki representing Congresswoman Elise Stefanik.  Tami Flaherty, Director, Community Based Clinical & Care Management Services, spoke on behalf of the St Anne Institute, as did Board President Vince Colonno, former CEO of Catholic Charities of the Diocese of Albany and Vice Chair of SEFCU.  Chamber volunteer Ambassadors James Dick, account executive at Gallagher, and Ron Mason, a longtime friend of the St. Anne Institute, also attended and assisted with the ribbon cutting.
Mental Health issues/problems continue to be common, widespread, and disabling.  Every year more than 1 in 5 New Yorkers has symptoms of a mental health disorder.  Moreover, in any year, 1 in 10 adults and children experience mental health challenges serious enough to affect functioning in work, family and school life.  Since 1887, St. Anne Institute has been helping children and families develop the confidence and skills they need to overcome crisis in their lives.  Because each client's circumstances are unique, treatment plans are specifically tailored to meet their needs as identified through the referral evaluation process.
All ribbon cuttings of the Capital Region Chamber and its affiliates are sponsored by the Saratoga National Bank & Trust Company.