News
May 24, 2019
Skyloft Celebrates with Ribbon Cutting in Guilderland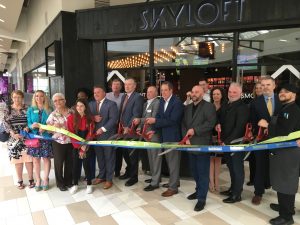 The Chamber and its Ambassadors attended a grand opening and ribbon cutting to welcome Skyloft to Guilderland on Thursday, May 23. The ceremony was followed by an open house.
Skyloft is a 16,000 square foot restaurant, bar, and live music club on the upper level of Crossgates, near FunnyBone Comedy Club. Skyloft is an innovative and diverse concept created by the owners of Daryl's House Club in Pawling, NY and Skyloft in Laguna Beach, CA.
Skyloft features signature Smokehouse meats as well as fresh seafood and salads and local craft beer, wine and spirits in an upscale, casual setting. Differentiating this restaurant concept from most is the live music club where the top touring acts in the country will perform.
The Music Club includes a massive stage, a main dining area, and three bars, with a total capacity of close to 1,000 people. The entertainment venue features state-of-the-art technology with a 20-foot LED wall screen, impressive concert lighting, and a top-of-the-line sound system.