News
June 22, 2022
Schenectady Resident Finds an Education and a Career at Capital Region BOCES
A Schenectady man who just two years ago was "clueless" about manufacturing now has a career in the burgeoning industry thanks to Capital Region BOCES.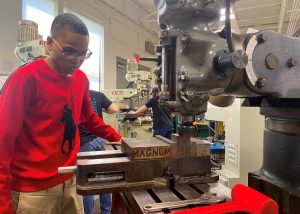 Nazias Hunter is an adult student in the Machining and Manufacturing program at Capital Region BOCES Career and Technical School, a program he started last year as a senior in Schenectady High School.
"I was clueless about manufacturing before I took the course, but when I started it last year, I liked it a lot and I decided to come back to finish it this year after I graduated," Hunter said.
That persistence paid off and Hunter has been hired by the Schenectady manufacturer to bolster its workforce.
"I have a full time job when I graduate and that is great," Hunter said. "The manufacturing program is a really good program. If you want to be prepared for a career after high school, then you take this program like I did."
Hunter made the connection with Ren Tools through the Capital Region BOCES wok-based learning program, which places students from virtually every program into jobs with business partners. This program provides students with valuable work-placed experience and can, in some instances, lead to careers.
Patrick Belletti, co-owner of Ren Tools and Manufacturing, said Hunter is an excellent student and worker.
He said demand for machinists is astronomical.
"We are all in need of workers, Every machine shop needs skilled workers like Nazias," he said.
Hunter said Ren is the perfect fit for his career aspirations.
"It's a small business and I am familiar with all of their machines because it's what I learned (at BOCES). The people are great. They help you. What more could you ask for?" he said.