News
February 14, 2022
Schenectady Community Ministries (SiCM) Partners with Ellis Medicine to Expand Services for the Underserved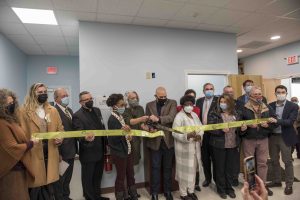 The Chamber was happy to partake in the grand opening and ribbon cutting of the new Ellis Medicine Walk-In Clinic at SiCM's Community Hub.  The ribbon cutting took place on Friday, February 4. The Chamber was joined by Ambassadors, local elected officials, community supporters and many volunteers.
The SiCM Community Hub houses the Community Learning Kitchen with a focus on cooking and food preservation. MVP agreed to help finance the construction of the Community Learning Kitchen by partnering with Ellis to create the Ellis Medicine Walk-In Clinic, a much-needed resource for the underserved population on Hamilton Hill.
A Resource Room has been added to the building allotting for space for a financial literacy partnership with YouIncWealth, and community organizing opportunities. Our farm operation will be busy in the Community Hub at the start of the year planning for the planting season and hosting seed exchanges, while supporting food security and nutrition programs. Our services out of the pantry are increasing on-site, through deliveries, and soon through mobile pantries in partnership with elementary schools in Schenectady. These and many more give witness to our history of community engagement and propel us to our current commitments to community-based social justice and racial reconciliation.
On behalf of those we serve in the community, thank you for your participation and support.
All ribbon cuttings are sponsored by Saratoga National Bank and Trust Company.