News
May 12, 2023
Santabarbara Secures Nearly $1M Funding for Proctors Theatre, Continues Schenectady Revitalization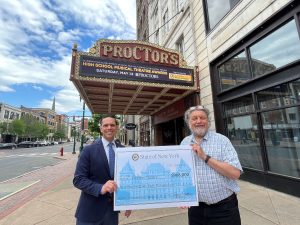 Assemblyman Angelo Santabarbara announced $968,000 in funding for Proctors Theatre in Schenectady included in the enacted 2023-24 state budget. These funds are part of a $5 million allotment to support performing arts theaters through the "Alive Downtowns!" program.
"It's exciting to know that nearly $1 million will be coming to Proctors Theatre in my Assembly District through the 'Alive Downtowns!' initiative I helped secured in this year's state budget," said Assemblyman Angelo Santabarbara. "We've come a long way in revitalizing Schenectady, and Proctors has been a key element to our success. This new funding will continue our ongoing efforts that include a long list of investments in what's now being called 'New Schenectady' including the new Union Hockey Arena project at the Mohawk Harbor that I secured $10 million for in last year's state budget," Santabarbara added. "These efforts will continue to grow our upstate economy and create the new opportunities that our community deserves."
Proctors Theatre is one of the most authentic performing arts venues in the country, playing host to globally renowned artists such as Mariah Carey and Britney Spears during its nearly 100 years of operation. Proctors is also a staple in the community that has been a key partner in the revitalization of downtown Schenectady.