News
May 28, 2019
Sandra Beck Receives 2019 Key4Women Achieve Award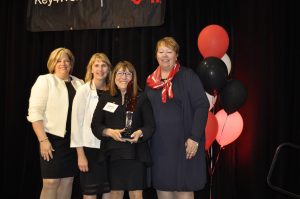 Sandra Beck, founder and CEO of Tidy Tots Diapers, was presented the 2019 Key4Women Achieve Award at the Annual Key4Women Forum on May 17 at the Albany Marriott.
The Achieve Award honors a local woman business leader who has achieved a high level of success in her career while making many contributions to the community. The award is part of KeyBank's Key4Women program, which has been recognized by the Kauffman Foundation as a "best practice" for financial institutions serving women business owners.
"The Key4Women Achieve Award is our way of celebrating the women business leaders for their dedication to business and community," said Ruth Mahoney, president, Capital Region, KeyBank. "For more than 15 years, Sandra has been helping the environment, changing the way people think about cloth diapers and creating jobs for people with disabilities. She truly is making a difference in our community."
Tidy Tots Diapers features a patented, hassle-free cloth diapering system with a unique snap design that allows the diaper to be resized to fit babies and toddlers of all sizes while remaining ick free, rash free and leak free. Tidy Tots is based in Schenectady ARC's Pine Ridge Industries and as a partner with Herkimer Industries, hires and trains individuals with disabilities.
"I started Tidy Tots because I wanted to give families a hassle-free, more environmentally friendly solution to diapering, said Beck. "Key4Women has truly been instrumental in helping me bring my brand to a national level and has played a huge role in my success. I am honored for this recognition."
Beck also credits the more than 100 families who helped her test, retest, refine and perfect the diapers, as well as Pine Ridge Industries.
"I can't think of anyting I've needed that Pine Ridge Industries hasn't given me," said Beck. "The most gratification I get is giving employment opportunities to disabled individuals who need training and work skills to gain competitive employment."
Beck joins an impressive list of former winners:
2009 – Marri Aviza and Lisa Norgrove, owners, Rumors Salon and Spa
2010 – Karen Gordon, executive director of Commission on Economic Opportunity for the Greater Capital Region
2011 – Kathleen Tanner, executive director of Equinox, and Dorothy Cucinelli, executive director of ClearView Center
2012 – Joan Hayner, CEO of CapitalCare Medical Group
2013 – Karen Bilowith, president and CEO of Community Foundation for the Greater Capital Region
2014 – Nathalie Whitton, owner, Site Solutions Worldwide
2015 – Ann Errichetti, chief executive officer of St. Peter's Hospital and Albany Memorial Hospital and vice president for Acute Care Albany of St. Peter's Health Partners
2016 – Kathe Sheehan, owner and president of The Costumer Inc.
2017 – Marilyn Pendergast, partner, UHY LLC
2018 – Margaret Smith, Airosmith Development
Key4Women's charitable partner for the 2019 Key4Women Forum was Brain Injury Association of New York State, a statewide non-profit membership organization that provides advocacy and support to people and families living with brain injuries. Key4Women presented a $1,000 check to the organization.
Key4Women, officially launched in 2005, is a unique KeyBank program grounded in research and dedicated to helping women-owned businesses and leaders thrive. The program is founded on three pillars: Advocate, Connect, Empower.
Key4Women is free to Key clients and can be joined by visiting www.key.com/women. On the site, members can find business tips on such topics as SBA lending, marketing and business development, Human Resources and Information Technology.
For more information about the Key4Women Forum and registration, visit: http://www.key.com/key4women/