News
September 13, 2019
ROI Opens New Showroom in Troy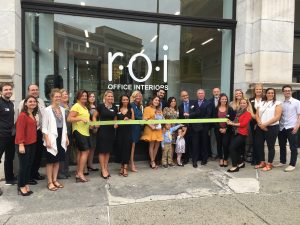 The Chamber, its Ambassadors, elected officials, the Rensselaer County Regional Chamber of Commerce, partners, friends and family were all present to celebrate the opening of roi Office Interiors newest commercial furniture and design showroom in Downtown Troy's historic Frear building at 2 Third Street.
"We are very excited to be joining the growing business community in Troy, where our  showroom and Capital District headquarters will now be located," says Robert Angelicola, founding Dealer Principal of roi Office Interiors. roi Office Interiors was established in 1995 by Lynne and Robert Angelicola in Rome, NY. Currently, roi operates in four New York State locations, Rome, Syracuse, Ithaca and Latham.
Their Capital District operations will move from Latham to the new showroom in Troy on September 12 and will display commercial furniture and include a fully equipped design studio for the use of  customers and design professionals. roi Office Interiors ultimately decided on the Troy location for several reasons including the vibrant design community, its proximity to all the Capital Region markets, and the availability of premier retail space on the first floor of the historic landmark
Frear Building.