News
May 22, 2020
Reopening Plans for Guilderland Public Library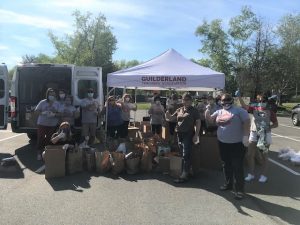 We are edging closer to our eventual phased reopening, diligently finalizing plans internally and in conjunction with the 28 other Upper Hudson libraries. We miss you and we hope to see you in person soon! However, we must do so with utmost care. Your patience is greatly appreciated as we strive to address several key considerations, in full compliance with New York State directives. As always, the health and safety of our staff and patrons remains our top priority. Please see our:
• website here https://guilderlandlibrary.org/gpl-reopening-plan/
• Facebook page
• Instagram account
• monthly newsletter (click "our newsletter" on www.guilderlandlibrary.org) and
• weekly e-news blasts (subscribe on our newsletter page)
for further updates on our reopening plans. Meanwhile, let's stay the course and continue to follow recommended protocols so that we can continue to make progress toward a healthy future!
Budget and Board Candidate Vote
Voting on our annual budget and Board of Trustees candidates will be conducted solely by mail-in absentee ballot this year, due to the COVID-19 pandemic. Guilderland Central School District will automatically mail absentee ballots with a prepaid return envelope to all qualified voters. Completed ballots must be received to the school district by 5:00 p.m. on Tues. June 9th. Please see www.guilderlandschools.org for further details, including information on voter registration and eligibility.
Guilderland Public Library has five candidates for three open Board of Trustees positions – three incumbents and two first-time candidates. They are, in ballot order: Marcia Alazraki, Herbert Hennings, Mark Keeling, Philip Metzger, and Richard Rubin. More information on these candidates, and our proposed budget, may be found by clicking on the last two links at the bottom of this web page: https://guilderlandlibrary.org/get-to-know-us/people/board-of-trustees/.
Summer Reading Program
Everyone loves a good story, and everyone has a story….what's yours? All ages are invited to join our literary journey to Imagine Your Story – our 2020 Summer Reading Program theme. It's a great incentive to stay connected and keep our minds active over the summer months. Once again, children, teens and adults can log their reading activities in Beanstack and earn chances to win prizes. Sign up begins Mon. June 1st at: https://guilderlandlibrary.beanstack.org/reader365.
In addition, teens are invited to Read it Forward again this summer with two books to enjoy and then "Read it Forward" to a friend: Croak, by Gina Damico, and Nimona, by Noelle Stevenson. These titles may be downloaded as an eBook or audiobook from Libby or Hoopla. Copies will also be available once libraries reopen, with no due dates and no late fees on these titles.
Employment Resources
Historically, libraries become even more important during times of economic crisis, helping people secure jobs while providing free educational and entertaining materials. With unemployment currently at 14.7 percent, we're striving to consolidate employment resources in one convenient spot. Our new Guide to Job Information Resources may be viewed by clicking on the button on our home page and here:
https://guilderlandlibrary.org/wp-content/uploads/Job-Information-Page-PDF.pdf.
You'll find a slew of employment websites, links to essential businesses hiring now, and downloadable books for career development and job hunting.
Keep in Touch
While our doors remain closed, GPL remains your trusted source for online education and entertainment. As we strategize on reopening our doors, we're constantly adding virtual programs and content for your enjoyment. We encourage you to:
• check guilderlandlibrary.org frequently – especially the Healthy at Home page
• read our newsletter, linked on our home page
• like our Facebook page
• join the GPL Kids and Families Facebook group
• follow us on Instagram
• subscribe to eNews on top of our home page and on the newsletters page
• contact us at 518.285.0050 or [email protected]
• check out the Little Free Library in front of our building
• access our Wi-Fi 24/7