News
June 6, 2019
Palette Café Opens on Broadway in Downtown Saratoga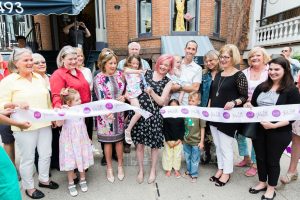 The Chamber and its Ambassadors were on hand to help welcome Palette Café to Saratoga Springs on Wednesday, June 5.
The Palette Cafe, a unique cafe space, has opened its doors in downtown Saratoga Springs and marked the occasion with a festive ribbon-cutting ceremony. Located at 493 Broadway, the cafe is the first phase of what will become a social destination for the community with a focus dedicated to supporting women in career and in life.
Owned and operated by Mark and Catherine Hover, local entrepreneurs whose other ventures includes Saratoga Paint and Sip Studio, are expanding their portfolio with this latest project. The cafe space features soft accents of wicker chairs, pale pink walls and colorful mosaic tile. Art Deco-esque lighting, work stations and a pink rotary phone booth complete the interior look.
Offerings at Palette Cafe include a full bar, small bites, and desserts for eating in or on the go lifestyles. The menu highlights include items such as Empanadas, Cheese Biscuits, Cheese Plate as well as soups, salads, desserts and a variety of other shareable snacks and easy grab-and-go items.
The beverage list features local coffee and tea purveyors as well as wine selections and an expansive cocktail and mocktail list that pays homage to popular female personalities. The cafe houses areas for community gatherings and co-working, free Wi-Fi, a large patio as well as gallery space dedicated to showcasing local artists' work.
"I was looking to create a community space that bridges the gap between 'stay-at-home moms' and 'women in business," said Catherine Hover, owner and purveyor of fun, Palette Cafe. "Our focused objective is to create an experiential destination that supports women through art, business, and special events while also providing a space that is hospitable and convenient for everyone in the community. Grab a coffee on the go, stop in for lunch, a meeting or a cocktail, all are welcome here!"