News
October 20, 2021
Old Brick Furniture & Mattress Company Opens in Clifton Park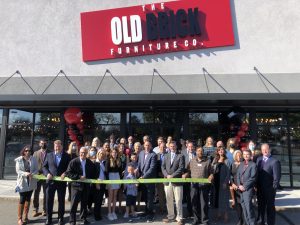 The Chamber along with many elected officials, Chamber Ambassadors, vendors from near and far, community supporters and staff were on hand to officially cut the ceremonial ribbon for the new Old Brick Furniture in Clifton Park.  This event was held on Wednesday, October 20.
The former 30-year old Toys"R'Us space located on Clifton Country Road, in one of the highest trafficked retail centers, is 46,000 square feet and less than five miles from OldBrick's new centralized warehouse.
Michael Fiacco, President and Owner of Bennington Furniture, purchased The Old Brick in September 2020, rebranding Bennington Furniture's five retail locations to Old Brick. The Clifton Park location is the first ground-up showroom since the rebranding with both the Old Brick and former Bennington Furniture teams working as one.
"Saratoga County is one of the fastest growing counties in New York, the market is great for the value proposition and interior design services that Old Brick offers," said Fiacco.
The newest Old Brick showroom celebrates the Bennington Furniture legacy in quality and interior design while merging the value proposition and no-pressure team atmosphere the Capital Region has gotten to know and love Old Brick Furniture for, creating what the team calls "the new Old Brick."
While managing the 120-day renovations, the Old Brick team delivered record months at their seven other locations, coordinated the transition to a new central distribution center, and participated in and won multiple interior decorating awards in the prestigious Saratoga Showcase of Homes. "All I can say is I'm very much proud to have the team I have. I'm surrounded by a special group of people," Fiacco stated.
All ribbon cuttings are sponsored by Saratoga National Bank and Trust Company.