News
April 3, 2019
New Renovation at the Schenectady Jewish Community Center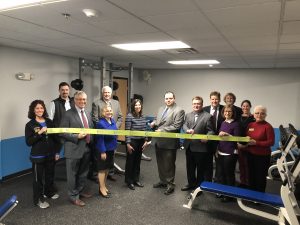 The Chamber, Ambassadors, local elected officials, staff, board members, family and friends were all present to help officially open the new 'strength room' in the Schenectady JCC complex.
The strength room was created so members had a larger location to utilize the equipment. To make this update possible, the Schenectady JCC Fitness Director, Terry Santoro, along with the fitness team, brought in new equipment and moved other apparatus. This new renovation follows the renovation of the women's locker rooms and the creation of a new babysitting room for members to utilize while working out.
The Schenectady JCC offers more than 50 group fitness classes each week. Members have access to the fitness center, training room, spinning studio, sports performance program, certified personal trainers, indoor and/or outdoor pools, gymnasium, steam rooms, hot tub, saunas and full locker room.