News
September 12, 2019
New Biometric Holster Company Opens in Colonie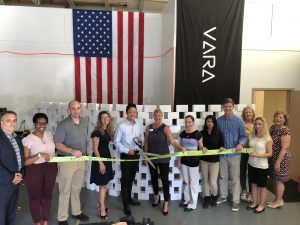 The Chamber, along with its Ambassadors, local elected, staff, family and friends were elated to take part in the official ribbon cutting for Vara Safety on Wednesday, September 11.
A Capital Region startup focused on firearm safety began shipping Vara Reach, a one-of-a-kind locking holster that provides instant, ready access to your handgun. The Latham based ​Vara Safety​ ​is in​ ​talks with several industry leaders for expansion and expects to ship thousands of locally assembled advanced holster safes through QES Solutions in Rochester, New York.
Founder and CEO of Vara Safety, Timmy Oh, has been winning awards for his firearm safety idea since 2015, when he first won Rensselaer Polytechnic Institute's Change the World Challenge. After winning the Smart Tech Challenges Foundation in 2016, Oh took first place at the $100,000 New York State Business Plan Competition, beating more than 2,000 teams. Through the support of ​UNY50 Leadership Network​ and ​Upstate Venture Connect​, Vara Safety secured a major investor in New York City's Purritano Management. In 2018, Vara Safety  received venture pitch coaching through the ​Center for Economic Growth​'s​ ​VentureB​ series. The startup also received a $50,000 ​FuzeHub​ manufacturing grant from the Jeff Lawrence Innovation Fund and $15,000 for a CNC machine from the New York State Workforce Development Institute. "As a growing business, Vara Safety's progress was accelerated through the key support of the regional organizations in Upstate New York including the Center for Economic Growth, FuzeHub, Workforce Development Initiative, and Upstate Venture Connect," said Oh. "We built the company and the product to scale quickly. The whole upstate ecosystem has come together and helped us succeed. We could have moved the company to California, but what convinced us to keep the company in New York was the ecosystem," said Christine Tate, Vara's COO.
On Aug. 31, Vara Safety began shipping the ​Reach​ units to more than 400 pre-order customers. Reach uses strategically placed biometrics to properly secure the handgun, and still allow immediate release. Reach units are designed to be mounted in your home, office or vehicle and are made of high-strength metal alloy. The units are being sold directly via Vara Safety's website​ and on ​Optics Planet​. "Vara Safety will be focusing future development on our core technology application to safety in law enforcement, suicide prevention, pharmaceutical storage, smart homes and more," said Vara Founder and CEO Timmy Oh.
According to the​ ​Injury Free Coalition for Kids​, over 50 percent of handguns are stored loaded or with the ammunition, and children are 73 percent less at risk of unintentional injury when they live in a household with locked and unloaded guns. According to the ​American Academy of Pediatrics​, 114 children under the age of 20 years died from unintentional  firearm-related injuries in 2009. Of these unintentional deaths, 66 occurred in the 15- to 19-year  age group.