News
February 14, 2020
Neet's Autobody Rebuilds in Clifton Park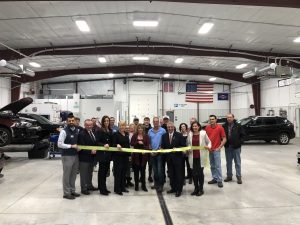 The Chamber, along with local elected officials, ambassadors, other local business owners, staff, family and friends all were present to help Tim Neet and family celebrate the new facility.
After nearly a year of rebuilding from a devastating fire on March 10th, 2019, Neet's is proud to bring their award winning service back to Southern Saratoga County.
Neet's Automotive repair is a family run, full-service body shop that has strived to give individuals and their vehicles superior service. Owners Tim and Rachel Neet have vast experience in the autobody and insurance industries. Tim started working in the autobody business right out of high school and then opened his own business over 30 years ago. Rachel has over 20 years' experience working in the insurance claims side of the business. Their combined experience ensures costumers with a detail-oriented stress-free repair process.