News
February 27, 2020
Merabec Market Opens with a Fresh, Local Taste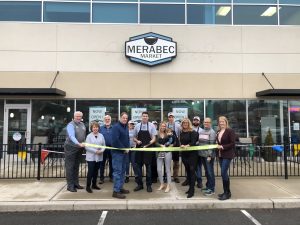 On Wednesday, February 26th the Chamber took part in a grand opening/ribbon cutting for Merabec Market in Latham. The Chamber staff was joined by ambassadors, family and staff.
Merabec Market offers fresh, healthy, and great tasting food, without added colors, flavors, or preservatives, just fresh ingredients and their natural, pure flavors. Every decision at Merabec Market starts with an understanding of where the ingredients originated and how they get to the door . They use only fresh ingredients from farms and local gardens, and spend a lot of time on precisely sourcing their products. All ingredients are free of GMOs, trans fats, artificial colors, sweeteners, and other artificial additives. The chicken, beef, and pork are humanely raised in a pasture, and never given antibiotics or hormones.
The team at Merabec Market is lead by John Grizzaffi, a Culinary Institute of America graduate and founder and co-owner of Garden Bistro 24.
Says Grizzaffi, "At Garden Bistro 24, we have always taken great pride in offering a wide selection of healthy and delicious salads. Because of their popularity and the passion that has gone into designing the salads, they became the main focus of our new adventure at Merabec Market. We also offer the option to make any salad into a grain bowl, along with other hearty options. We want people to leave Merabec Market feeling good about what they put into their bodies, but still appreciate and take pleasure in the array of tastes and textures."
He goes on to say that "we have identified Latham along with the surrounding demographic as a perfect fit for our new QSR concept, Merabec Market. Our QSR style concept will allow us to provide premium products to our guests at a much faster pace."
Aside from having no microwave and no freezer, the menu at Merabec Market consists of mostly organic, non-GMO vegetables and grains.
Merabec Market is a proud partner of The Whole Animal Program. The Whole Animal Program is committed to using the entire animal, with little to no waste, both for environmental and moral reasons. Merabec Market is directly supporting the WAP by utilizing cuts such as pork shoulder and stew beef. This partnership with local suppliers like Hudson Valley Harvest not only supports local farming, but also helps ensure less waste in the food system.
Merabec Market offers take-out ordering as well as delivery for added convenience and access to healthy food fast.