News
June 8, 2022
Member Spotlight: Tyler Desmond, Third Generation of "The Desmond – Albany" Family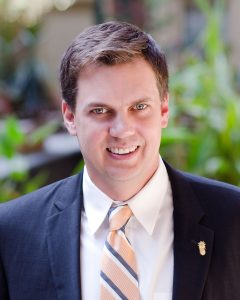 The hotel opened in 1974 under the name "The Americana Inn" as a partnership between Tyler Desmond's grandfather, John K. Desmond, Jr. and American Airlines as part of their "Americana Hotels" division in the 1970's. A year later American Airlines left the hotel industry to focus on air service only, and The Desmond Hotel was born. The hotel ran under John K. Desmond, Jr.'s direction and ownership for 40 years until his passing in 2014. In 2018, after 44 years of being an independent hotel, The Desmond joined IHG (InterContinental Hotels Group) as an unbranded affiliate hotel, and in 2021 the hotel completed a two-year property wide renovation to become a Crowne Plaza branded franchise within IHG. The hotel remains independently owned, managed, and operated to this day.  Tyler Desmond is the third generation of the Desmond family to work at the Albany property.
One interesting facts about the business that most people don't know is that guests usually comment on the uniqueness of the property and are surprised to learn that Tyler's grandfather John K. Desmond, Jr. designed much of it himself. He lived in the Philadelphia area for most of his life and had a passion for that original style of architecture. The indoor courtyards were originally modeled after "village squares" with brick pathways, fountains, and mock storefronts. Up until his passing he would personally approve almost every item for the property and used to travel to England and Europe to source pieces.
"We are proud to have a long tenured staff, many employees have been with us for 20 years or more and a few have even been here over 40 years. That kind of dedication and history translates into our customer service, which we consider to be of the utmost importance. We are known for exceptional hospitality, and it shows in every aspect of our business."
The Chamber's presence was much appreciated at The Desmond's grand opening/ribbon cutting ceremony in April 2021 when we officially opened as a Crowne Plaza. Tyler is thankful for the relationship over the years hosting various Chamber events such as the annual Holiday Party, participating in social networking events, and exploring grant/fundraising opportunities together.
Tyler's favorite part about living/working in the Capital Region is that his family enjoys the outdoors, and the Capital Region gives us the ability to drive an hour or so and escape to Lake George, Lake Champlain, the Adirondacks…while still being close to home.