News
June 27, 2023
Member Spotlight: The Schenectady Trading Company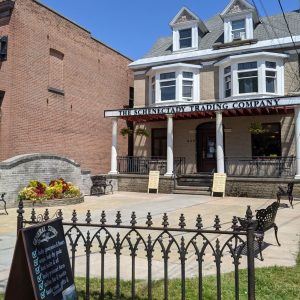 The Schenectady Trading Company opened the doors of its brick and mortar downtown location on lower Union Street in September 2019 and began building a presence and reputation for carrying quality local gifts, groceries, and souvenirs. They believed that as the landscape and identity of Schenectady was evolving, that a dedicated retail marketplace for local goods was missing from the city.
An interesting fact that most are unaware of it they accept SNAP EBT as a form of payment for their grocery items. Some people think of the Schenectady Trading Co. as strictly a gift shop, so people are surprised to learn more than half of the items that they sell are packaged food products, many of which are locally and regionally produced.
A fun tidbit is they track where products from their store go in the world on maps by the register. Whether it is an out-of-towner that comes into the store, a shipment from their ecommerce site, or a customer that is sending or bringing a gift to a loved one out of the area, owner, Caroline Bardwell enjoys sharing how Schenectady remains connected to the world at large; we have all 50 states and many countries and continents covered.
Caroline is known for passionately promoting Schenectady area talent, connecting consumers with local producers and having the most varied selection of locally-sourced groceries and gifts in the immediate area. Beyond that, her business is known for their social media presence. People connect with the way that she share stories about the people behind the products, her love for her community, and even behind-the-scenes glimpses into running a small business. In this day and age, you can find a product for every need on the internet and perhaps a store near you, but as a society, we are hungry for personal connection. You can't just fabricate that and it's much more difficult to locate.
Along with supporting our grand opening/ribbon-cutting, Caroline has attended Chamber networking events, business meetings, and awards ceremonies and The Schenectady Trading Company was even honored with a Chamber Good News Award!
"I think that the Capital Region is extremely diverse in its offerings and there are many opportunities here to build relationships. My favorite part of growing older where I was raised is the privilege to access the long-term friendships that I've built over the years and also to develop new ones with people who are also embracing and investing in their communities," says owner, Caroline Bardwell. I am so blessed that people give me enthusiastic praise and share their appreciation for my business every single day, its focus on local products, the convenience, product variety and quality, the welcoming atmosphere, the store's uniqueness, my social media, etc.!" It's always great to hear "This is perfect!" but a couple other gems are "I wish there was a store like this where I live" or "You make me feel proud to be from Schenectady."