News
September 12, 2019
Member Spotlight: The Schenectady Jewish Community Center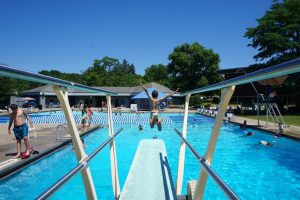 In 1921, the Schenectady Young Men's Hebrew Association (YMHA) and the Young Women's Hebrew Association (YWHA) incorporated, and together with the United Hebrew Community, merged into one organization to become the Jewish Community Center. In 1929, the Center found a home in a large mansion on the corner of Germania Avenue and Albany Street in downtown Schenectady.
As the majority of the Jewish community moved away from the Germania Avenue location, JCC leadership purchased a 25 acre parcel of land on Balltown Road and in the 1960s, the JCC moved to its current location in Niskayuna.
Since then, several major expansions have enhanced the Center's facilities and led to strong membership growth. In 1987, the William and Estelle Golub Family Park was created to include an Olympic-size outdoor swimming pool, playground, a basketball court, tennis courts, amphitheater, kosher snack bar and locker rooms. In 2001, an additional 20,000 square feet were added for a fitness center, dance studio, renovated indoor pool, refurbished auditorium, new adult wing, and an enlarged children's wing for early childhood, elementary, and middle school-aged children. The lobby and exhibit spaces were updated, and staff offices were added.
Today, the Schenectady JCC is a thriving non-profit community center that welcomes the diverse populations of Schenectady, Albany and Saratoga Counties. Our staff is committed to providing members and guests with high-quality programs and customer service. Included in a membership is the use of the fitness center, over 50 group and water fitness classes each week, lap and family swims, open gym use, adult swim lessons, family art and gym activities, a relaxation center complete with whirlpool, sauna, and steam room, and discounts on fitness, social, and enrichment classes and programs.
The JCC works with the Chamber to help raise awareness about new programs and facilities such as our recently renovated strength room. Having the chamber and its ambassadors welcome members to events for new programs and facilities is a great way to give our members a sense of the broader community to which the JCC belongs. In 2018, the Schenectady JCC recognized the Chamber with its Philanthropic Leadership Award for its work to improve the economic well-being of all in our community.