News
March 3, 2022
Member Spotlight: Take Two Cafe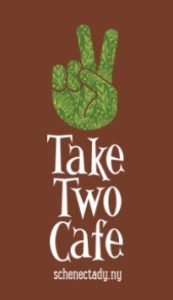 Take Two Cafe was founded in 2021. All food prepared in the kitchen is plant based, 100% vegan with Gluten free options as well. Take Two Cafe is best known for their personal service, relaxing and welcoming atmosphere, guests are welcomed by name and they have an engaging staff who knows your favorite drink. They are a local, independently owned vegan restaurant on State Street in Schenectady. It's a great spot to spend your morning or afternoon to meet with friends.
Did you know one person can save the planet with one day of eating vegan? Take Two Cafe is continuing to educating people on the benefits of vegan for health and environmental reasons, even those who ask "How can this taste so good and not be real meat". Take Two Cafe creates new dishes for their vegan fans including delicious vegan donuts, cookies and pastries. Meatless Mondays are very popular. Their take out food will continue to amaze you.
Take Two Cafe will be opening another vegan location in the next few months on Clinton Street in Schenectady, continuing to offer vegan bar snacks, alcohol and many games to choose from. This will be family friendly and more on that to come!
As a member of the Capital Region Chamber, we were honored to join Take Two Cafe in their ribbon cutting ceremony as a welcome to the community. Take Two generously donates gift cards to our Women's Business Council as door prizes as another way to get their name out there!
Their favorite part about living and working in the Capital Region is the variety of activities like hiking and biking. "The support from our community makes us want to do even more!" Join the vegan following on Facebook/Instagram/Twitter under veganstreetqueen.