News
December 6, 2018
Member Spotlight: Shriners Hospitals for Children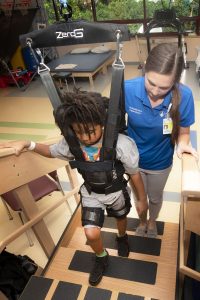 Shriners Hospitals for Children in Springfield is home to the only pediatric inpatient rehabilitation program in western New England and eastern and upstate New York.
"We provide coordinated child- and family-centered care for children up to age 18 who have suffered an injury or illness resulting in disability," says Program Director Sheryl Moriarty, OTR/L, CDRS. "Our program was created for patients who are well enough to be discharged from an acute hospital but still need to rehabilitate to maximize quality of life and live as independently as possible at home, school and within the community."
Under the supervision of a fellowship-trained pediatric physiatrist, patients participate in three hours of combined physical, occupational and/or speech therapy five days a week using state-of-the-art rehabilitation equipment not common in other programs. When not in therapy, patients are monitored around the clock by pediatric nurses who specialize in rehabilitative care. Spacious private rooms are equipped with Wi-Fi and entertainment technology and offer a sleeping option to parents who choose to stay with their child overnight. Just steps away, a sun-filled atrium invites patients and families to enjoy toys, games and technology appropriate for all ages and abilities.
According to assessment scores, patients of the Inpatient Rehabilitation Program at Shriners Hospitals for Children—Springfield have consistently achieved higher functional gains and a greater level of independence than at other pediatric inpatient rehabilitation programs in the country. Patients are discharged sooner and return home at a higher rate.
To inquire about inpatient rehabilitation please contact clinical liaison Sue Tapases, RN, BSN, at 413-386-4581 or [email protected].