News
October 14, 2021
Member Spotlight: Riverview Orchards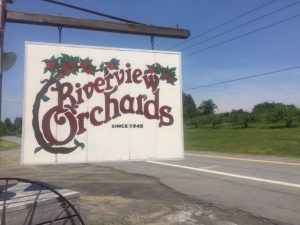 Riverview Orchards was settled by the Barretts in 1945 and is currently owned by Isabel Barrett Prescott and her family. The farm has transitioned over the generations from wholesale sales to pick-your-own apples so that local families have an opportunity to participate in the harvest. The pilgrimage to the farm has become an autumn tradition and an excursion for the community to enjoy a day at the apple orchard, discovering what it's all about while taking home some delicious fruit.
The nostalgic country store adds to the ambiance of the visit by providing already-picked fruit when in season, local products from other farms, homemade pies, and apple cider donuts. Locovores are euphoric when they realize they're able to shop amongst a delightful array of local foods that have amazing freshness and nutrition. Not only that, but they can talk to local farmers about how the food  was grown, or they can go into the orchard to see for themselves.
Isabel has always been concerned about local open space conservation and the retention of farms. She's seen many changes in her community over the years, and truly believes that land and heritage preservation add to the quality of life in Clifton Park and should continue to do so for future generations. She's currently on the Chamber's Government Affairs Committee, which helps her to keep abreast of the latest issues. Together, and along with other farm organizations, the Chamber helps to influence the most positive approaches to keeping farms viable and the land open.
But wait! What is Riverview Orchards especially known for? Apple cider donuts! They hear from customers how much they're enjoyed right off the robot when they're still hot and yummy.  How people love them! So come to Riverview and find out for yourself by visiting them at 660 Riverview Road in Rexford. Open 9 a.m. – 6 p.m. daily (September – October).