News
August 15, 2019
Member Spotlight: Northwestern Mutual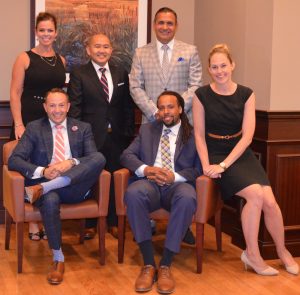 Northwestern Mutual, whose first office in the Capital Region was established in 1889, is proud to be celebrating 130 years of serving the community. A little known fact? There were 13 Northwestern Mutual policyholders on board the Titanic when it sank in 1912. The company paid out nearly $500,000 in benefits; the largest payout of any life insurer. That's an incredible amount of money for the turn of the century!
Says Alex Tronco, Managing Partner at Northwestern Mutual, "As a mutual company, we don't have shareholders. We report to our policy owners, not Wall Street. Mutuality also means that our policyowners get to be a part of our company and may benefit from annual dividends. So when we do well, you do well, too. We lead the industry in giving back to our policyowners — issuing dividends every year since 1872, even during the Great Recession. We also lead when it comes to preparing our advisors for their role. We have the best training and development in the industry." He goes on to say that Northwestern Mutual continually reviews what they do to make sure that they are always putting our clients' best interests first. "We are helping our clients live a life by design."
Additionally, Tronco says that having access to Chamber events is a great opportunity to network. Northwestern Mutual likes that there is always something to learn from other businesses and they enjoy being introduced to great talent. "We are surrounded by such wonderful people and organizations that are supporting the growth and prosperity of our community. We see a real passion for philanthropy within our offices. Our advisors and staff take pride in giving back and wow us with their generosity and volunteer efforts. We are making a difference, together."
"He treated me like his family and my family's financial plan like his own." That's a direct quote from a client, and it's a statement like that that reassures us that we are doing our job right. This business is about building relationships and trust, says Tronco.