News
April 28, 2022
Member Spotlight: Highly Caffeinated Marketing LLC founded by Brittany Lawton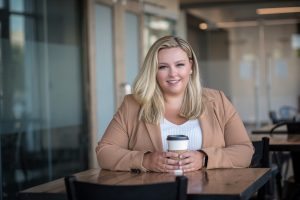 Highly Caffeinated Marketing LLC was founded by Brittany Lawton in 2016 with the purpose of providing personalized strategies to energize an organization's marketing and create a tangible impact on their business.
Brittany started her company with a non-traditional business approach.  She likes to say that she didn't start a business but explains that she somewhat fell into it.  Brittany had a business owner say to her she wished she had someone who could design a flyer for her company or manage social media. Brittany filled that need and then realized that many small businesses were in a similar position. She called up a friend to go into downtown Albany to get her DBA (Doing Business As) and the rest is history!
What sets Brittany's company apart from her competitors is that her clients consider her their trusted marketing leader. Because when she first started her business, she recognized how many vendors a single business owner used for their marketing — one for email, another for social, another for website management, etc. This is not only incredibly inefficient but also prevents the formation and implementation of a cohesive and targeted strategy. Brittany provides wraparound services that bring all these pieces together into a streamlined strategy that is designed to address overarching business goals. In doing so, she has become her client's go-to person for all things marketing-related, taking the marketing activities that were once siloed and transitioning them to meaningful assets.
Another thing that sets Highly Caffeinated Marketing LLC apart from other companies is Brittany's commitment and loyalty to her clients. She deeply values her relationships with each client and feels the trust that has developed over time that leads to stronger collaboration, a deeper understanding of their goals and vision, and ultimately, more success with their marketing efforts.
Recently, Brittany was navigating a challenge with a client when she said to her, "I know your work ethic and I trust you." As Brittany states "For her to say this to me, especially at a time when not everything was going according to plan, validated the work that I've put in to develop and maintain relationships."
Britany is a big fan of the Capital Region Chamber and has been fortunate to have had many opportunities to work on various committees and attend programs such as: the Women's Business Council, Leadership Tech Valley, Young Professional Network, Entrepreneur Bootcamp and did presentation on Marketing at the Chamber's BusinessU.
Brittany feels that referrals are the greatest testimonial. Much of her business has been driven through word of mouth and when a client recognizes the quality of my work and places such a high value on my services and expertise that they recommend her to a friend or colleague is extremely rewarding.