News
May 2, 2019
Member Spotlight: Eyes Wide Open NENY, Inc.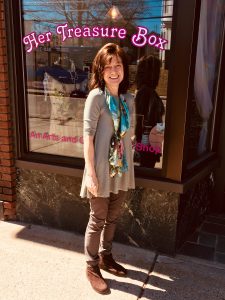 In this week's member spotlight we highlight Debbie Fowler, founder of Eyes Wide Open NENY, Inc. and owner of Her Treasure Box. Read on to learn more about Debbie's background and her inspiration for opening Eyes Wide Open.
My inspiration and passion for what I do today comes from my learning about human trafficking while living abroad. I returned home determined to shout it from the rooftop that this insidious crime against humanity exists, the buying and selling of people through exploitation and force for profitable gain. This is happening all over the world and importantly here in our own backyard. I had to do something. My original thought was just to raise awareness. I didn't have a plan as to how I would do that. But owning a business and running a non-profit is what happened.
While living overseas, I spent a great deal of time volunteering at a shelter for women victims of trafficking from another country. They were women seeking refuge from their abusive owners. It was there, where I began to understand how healing creativity is to the soul. Supplies, of course were needed. Volunteers went to fabric shops, and tailor businesses requesting donations of fabrics, threads, buttons, embellishments, etc. Myself and others spent our time teaching sewing, making crafts that could be sold on the women's behalf at flea markets, so when the opportunity arose, they could return to their homeland and have a bit of money.
My background is simple. After high school I married and supported the ministry of caring, encouraging, comforting alongside my husband for twenty years. I am a mom of three and a grandmother of nine.  They are the loves of my life. Many life experiences, the happy and sad, have prepared me for this time in my life. Through the years, I chose to volunteer with those in need, including at nursing homes and hospitals, and found employment in healthcare offices to care for those in need.  I don't have a degree; however, I do have love and determination. Everything else I need comes from a network of amazing friends, colleagues and professional resources in the community that help me continue going forward.
I believe 1775 Van Vranken Ave, Schenectady chose us. The idea of owning a business wasn't on our minds. All I knew was I needed to raise awareness. The "how" I was going to do it wasn't planned. We sold craft supplies at flea markets so we could hand out flyers on trafficking. Once there were no more flea markets, there was an abundance of crafting supplies we were unsure what to do with. After hearing our story, a local business man in Schenectady offered to give us 6 months free rent. Patty and I looked at each other, shrugged and said, "I guess we are opening a shop."
Her Treasure Box is an arts and crafts thrift store. The inventory consists of donated yarn, fabric, paper crafting supplies, beads and jewelry supplies and everything in between and sold at thrift store prices. So many of us who love to create have an abundance of supplies; usually, more than we need. Donations come from those who are downsizing, clearing out grandma's attic or those who are moving on to a new craft.  What is amazing about this is, I have met so many people who want to give, want to make a difference in life beyond themselves. Shopping at our store allows them to create baby hats for the neonatal unit and quilts for veterans. It allows parents the affordability to craft with their children. The shop is run totally by the most amazing volunteers! Each has joined us because they believe in working together to raise awareness for Human Trafficking and providing a place of love and refuge to women survivors in our community. All proceeds support the program of Eyes Wide Open NENY, Inc., the nonprofit founded to provide homes and programs for healing and new living skills.
Anyone new who walks into the shop comes in as a stranger, and leaves as a friend. Our repeat customers are like family and greeted with a hug. Stories are shared and hugs are given. The children of the neighborhood know our names and burst in with excitement. Many come, they say, to visit their happy place. We are more than a thrift store.