News
August 22, 2019
Member Spotlight: Elevation Burger in Latham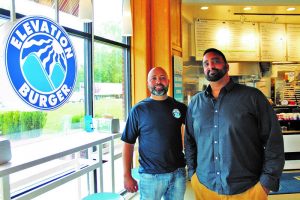 Azam Khan and Zubair Ahmed are the owners of Elevation Burger, located at 664 New Loudon Road in Latham. They are also cousins and part of a very close-knit family.
While researching new business concepts, Azam and Zubair realized the need for a quick service restaurant where ingredients matter. They figured "what better way to start than with burgers and fries?" To the cousins, franchising an Elevation Burger seemed like a great fit. The two immediately met with the CEO and launched their first store in Latham shortly after. They were excited to be starting a business in the same community where they attended high school and to have the opportunity to give back to the area that had done so much for them.
Using the Chamber's Capital Business Assistance Fund, Elevation Burger was able to access both a small term loan and a revolving line of credit to fund marketing and promotional strategies in their first few years of business.
Elevation Burger – Latham celebrated its two-year anniversary in February. Azam and Kubair invite members of the Chamber to check out their location for some delicious hand-cut fries, hand-spun milkshakes, and of course their 100% organic beef and chicken. They also offer vegan and vegetarian menu items and gluten free and Paleo options. For larger groups, there is a 25-person party room available.
At Elevation Burger, they strive to make sure every guest has a great experience – from start to finish. Check them out for your next lunch or dinner!