News
October 11, 2018
Member Spotlight: Clifton Park & Halfmoon Emergency Corps, Inc.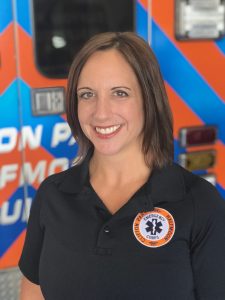 Gina Wierzbowski, EMT-P is the Community Outreach Coordinator at Clifton Park & Halfmoon Emergency Corps, Inc. She shares the history of the organization and her 22 year involvement with Emergency Services.
Clifton Park Halfmoon EMS began as a grass roots organization that identified and fulfilled the need for EMS in Clifton Park and Halfmoon. Over the ensuing 68 years, we have evolved into an EMS agency that is focused on and dedicated to our mission of Premier Patient Care. What this means to us is that we strive to provide the best clinical care and treatment possible for our patients. Our agency began as an all-volunteer organization and over the years, we have evolved to become a combination of EMT's, Paramedics, Volunteers and Administrative staff.  The culture of our non-profit organization is firmly rooted in our values of Integrity, Compassion, Respect, Innovation and Safety. We work tirelessly to live up to these values each and every day.  Every EMS call matters. Every patient and their individual needs matters.
Equally as important to our agency is the second prong of our mission; Community Partnerships. Through our outreach programs we have an opportunity to come into contact with so much more of the community and provide proactive and preventative safety and wellness education. We do this through our CPR education and public AED placements, car seat installations, babysitting safety courses, blood pressure clinics as well as academic scholarships. We have some wonderful community partners and together we are working to fulfill our mission of Excellence in Service to All.
Says Wierzbowski, "I love to help people and I have found no other career that is as rewarding as EMS has been for me. We see people on their worst day and to be able to provide the highest level of competent and professional care along with comforting and reassuring them in their time of need is an incredible experience and is truly an honor. When a patient or their family member says thank you for helping me, I feel a deep sense of satisfaction and fulfillment."
More about Gina Wierzbowski, EMT-P: My formal education is in the area of Early Childhood Development, I obtained my AAS in Early Childhood Education from SUNY Cobleskill. I have been involved in Emergency Services for over 22 years, first as a volunteer Firefighter and Emergency Medical Technician (EMT) then choosing Emergency Medical Services (EMS) as a career path in 2009. In August, 2012, I successfully obtained my Paramedic certification and was hired in April of 2013 at CPHM. When I moved to EMS as a full time occupation in 2009, I did not realize how much it would influence and impact my life in so many ways; I would choose the same path again in a heartbeat.  In 2017, an opportunity to work with Assemblywoman Mary Beth Walsh presented itself and I left EMS full time to take a position as District Office Manager for the Assemblywoman. I could not envision giving up my place in EMS fully and so I remained with CPHM as a part time paramedic.  During the time I was with the Assemblywoman, I was responsible for constituent services and also making sure that she was out and about in the communities that she serves in every way possible. This involved many events in the towns of Clifton Park and Halfmoon, which are encompassed within the Assembly District. Interacting with Town and County governments, assisting the constituents and becoming more intimately involved in these two towns forged an even stronger connection to this community for me.
In addition to my career in EMS, I have been serving on the Town Board in Glenville since January, 2010; in January 2018, I was appointed Deputy Supervisor. This public service has given me many gifts to use in my EMS career. The gift of listening to others, the gift of meeting new people and putting them at ease and the gift of being comfortable in sometime uncomfortable situations. I also have gained valuable insight and knowledge of budgeting processes, implementation of fiscal and other policies and a good, sound understanding of local government and how it works.
I serve on the Glenville YMCA Advisory Council, the YMCA in Glenville has always been a wonderful asset in our community and supporting their mission is very important to me.
I also am serving as a Schenectady County Deputy EMS Zone Coordinator. This position allows me to assist and support EMS operations in the safe and successful resolution at all types of incidents in the towns of Glenville and Niskayuna and the Village of Scotia. Along with this position, I serve on the Schenectady County EMS Committee which works to improve and support EMS operations in Schenectady County.
All of these experiences help me in my role as Community Outreach Coordinator at CPHM, which I assumed on April 17, 2018, my five year anniversary at CPHM! My primary responsibility is my role as Training Center Coordinator for our American Heart Association Training Center at CPHM. I coordinate all of our instructors and work to schedule and provide high quality AHA courses that range from non-certification CPR courses to courses for advanced providers such as Advanced Cardiac Life Support and Pediatric Life Support. I also handle all of the logistics for many different types of events in the community. I am still a paramedic; this new position has enhanced and added to my enjoyment this of career, combining all of my experience and ability into one fantastic job with so many people I appreciate and respect!