News
October 11, 2023
Member Spotlight: Capital Region Language Center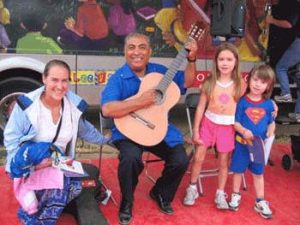 Capital Region Language Center was founded in 2003 as Las Mariposas (the butterflies) out of an extra room in Kim Andersen, Founding Director's Ballston Spa home. Kim taught two Spanish classes a week – one for children; one for adults. Kim lead a growing team of 30 teachers with a multi-classroom school in Colonie, off Wolf Road. They provide in-person and online language instruction in a dozen languages (see list below). They work with all ages – from toddlers at local libraries to employees at leading companies across the region.
American Sign Language (ASL)
Arabic
Catalan
Chinese
English
French
German
Japanese
Korean
Latin
Portuguese (European and Brazilian)
Spanish
An interesting fact about their business most people don't know, Kim Andersen, Founding Director, is very proud that for many of our teachers, this is their first job in the United States. Many taught at high levels in their native country and they are so grateful to share their culture and language here in the United States. Some always wanted to teach in the US, others are here because their spouse is working in the area. Some help lead an annual Lunar New Year party with traditional food, games and costumes. Others bring students to area restaurants like Sunhee's or Northeast Chinense for a richer cultural experience and chance to use their new language skills. They're more than a school – they are a community that loves experiencing new cultures!
Capital Region Language Center is known for working very closely with their students and their employers to customize language instruction. You can go online today and find a dozen places that promise to teach you a language. But, it is cookie cutter. They have built a reputation as a valuable investment because their teachers work one-on-one to address very specific language needs. And at a time when employee retention is top of mind, that value proposition and proven track record is key.
As the region's technology sector has grown, they've grown as a critical piece of infrastructure, supporting that expansion. They ask the right questions and really work at understanding a student's or employer's  needs. For example, they have worked with professionals who can write beautiful emails in English, but customers find it hard to understand them over the phone. Their teachers can evaluate the situation and fix things quickly – small changes that make a huge difference. They have a video game developer that hired us to help them work with new team members in Korea. The instructor not only taught the language but prepared them for a trip there to meet their coworkers. She explained the etiquette of greeting a boss, staying at hotels, how to order at a restaurant – she anticipated their specific needs to help them be successful. And they can do it all via video during the work day at a time that is convenient – either one-on-one or in small groups.
"I have been involved with the Chamber for more than a decade because it has given me countless opportunities to connect with employers who need the language instruction Capital Region Language Center provides. Chamber members really try to support one another. In so many instances, I have met someone at a Chamber event and two weeks later, I get a call from another executive, who was referred to me by the person I met. The Chamber has helped us grow and expand the way we serve the business and academic communities," said Kim Andersen, Founding Director.
"Now, as Diversity, Equity, and Inclusion (DEI) is being recognized as an important piece of the employment puzzle, we are being tapped in new ways. It may mean teaching Spanish to human resource managers so they can communicate more effectively with their Spanish-speakers or teaching English to local manufacturing workers.  Being part of the Chamber is instant credibility and as a woman-owned business, I'm especially proud to have grown my school with the help of  the Chamber."
"I moved to the region 25 years ago from Paraguay with two small children. I started the Capital Region Language Center to fill a gap I saw in our community. Today, our area is far more diverse – not only in population, but in restaurants, shopping, art and culture. That makes life richer for everyone. I have former students who came here for college, barely speaking English, who are opening businesses, teaching at universities, and playing major roles at leading companies. I am deeply proud that Capital Region Language Center (CRLC) and our sister school, Empire State English, have both played a role in this transformation," said Kim Andersen, Founding Director.
One of nicest thing a customer/client has ever said to Capital Region Language Center is, "We are so happy with the progress that our team members have made through their English classes with you. They exhibit more confidence with their English, are participating in meetings more frequently, and don't need to rely on their colleagues to preview emails before they hit send.  The teachers are amazing, and we are really happy that we chose to work with CRLC."