News
September 16, 2021
Member Spotlight: Bountiful Bread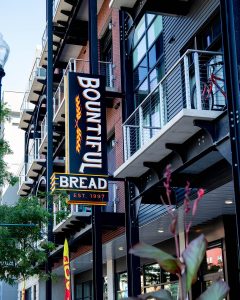 Bountiful Bread first opened in 1997 in a tiny storefront in Albany's Stuyvesant Plaza. We outgrew that space in short order and moved to larger space on the opposite side of the Plaza. Bountiful Bread-Schenectady, located at 108 State St., comes 20+ years later. This second location has virtually the same menu as Stuyvesant Plaza, though the daily specials are different. We have a very large kitchen in Schenectady, so our bakers handle all our wholesale bread baking out of that location, as well as custom cake orders and a catering operation.
Fellow members may be interested to learn that our artisan breads use a sourdough starter that originates from La Brea Bakery in Los Angeles, CA. Sandwiches made on freshly baked bread are just better than the average sandwich. Our bread baking operation is extensive—farm bread, baguettes, pane paisano, German rye, tuscan, sourdough, etc. And of course, we have many specialty breads—challah, brioche, pumpernickel, etc. One of the best compliments someone can give us is telling us how much they enjoy our bread!
What is the Bountiful Bread's team favorite part about living/working in the Capital Region? "The Capital Region has been very supportive of our restaurants over the years, and we are very grateful. We also are lucky to have such good staff from the area. Bountiful Bread is very involved in the community and loves to sponsor community events and organizations such as youth mountain bike clubs, cycling events (like the recent Farmer's Daughter Gravel Grinder), youth athletic clubs and community sports facilities."
As a newer member of the Chamber, they are excited to engage with other members!
To view all of Bountiful Bread's menus (café, catering, and custom cakes), visit www.bountifulbread.com.