News
May 15, 2019
Member Spotlight: Albany Empire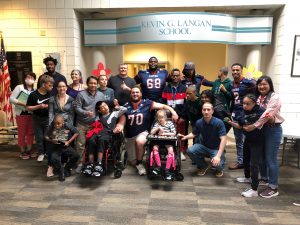 Founded at the end of 2017, the Albany Empire is unlike any traditional office since after all, it's football! The team loves to get out into the community with the players, dance team, and mascots (Mac and Jack). The team hosts block parties that take place on South Pearl Street in front of the arena three hours prior to every home game. They are a small office and like to include everyone when doing anything social!
When asked about one thing the Albany Empire is known for, they say community involvement and social media. Says Jordan Lomaestro, Manager, Communications and Public Relations for the Albany Empire,  "We are frequently out in the community. We love supporting our community and appreciate the fact that the Capital Region has welcomed us with open arms and pack the Times Union Center for our home games! We also are very active on social media, constantly posting new content and interacting with fans."
Support for the Albany Empire from the Capital Region community has paid off. In their inaugural season last year they led the League in average home game attendance (including selling out the inaugural game on 4/14/18!)! The fans recognize the players and staff off the field and make them really feel like they are a part of the community. You may even see front office staff at Chamber events, as they are always looking to grow, meet new people, and partners.
"We strive to provide an atmosphere that is enjoyable to everyone, not just football fans. We often are told that our events are family friendly and are like a party with a football game going on. Our fans back that up with numerous comments about how everyone can enjoy an Albany Empire game whether that are football fans or not!"
Want to get in on the action? The Albany Empire will be playing at home against the Washington Valor on Saturday, June 1. You can check out the full schedule here and purchase tickets here.