News
September 20, 2019
Leadership Tech Valley Class of 2020 Announced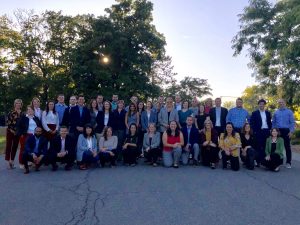 The Capital Region Chamber is pleased to announce its Leadership Tech Valley Class for 2020. Thirty-eight area professionals have been selected to participate in the program, which unites individuals from diverse fields and backgrounds to learn more about themselves as leaders and ways to better serve their organizations and community.
The Leadership Tech Valley program is held from September through June and consists of eight monthly sessions, including an opening and closing retreat and graduation ceremony. Each session is designed to increase awareness of issues facing our region, citizens and the local economy. Areas of focus for 2020 include economic development, community service/nonprofit, diversity, education, workforce development, government, community health, and arts and culture.
Below is a list of the Class of 2020:
Megan Allen, Capital Region BOCES
Nicki Brown, Albany Institute of History & Art
Jon Crain, Whiteman Osterman & Hanna LLP
Nicole DiBlase, Interim HealthCare of the Capital Region
Deanna DiCarlo, Albany Public Library
Matthew Dillon, Carter Conboy
Robert Dodge, GE
Stephanie Douglas, Northern Rivers Family of Services
Elizabeth Eichfeld, CDPHP
Christina Farinacci-Roberts, Head Heart Hands Consulting LLC
Christopher Fox, MVP Health Care
Kelly Frazier, Schenectady ARC
Elizabeth Frear, The Foundation for Ellis Medicine
Peter Gioia, 109th Airlift Wing/ Stratton Air National Guard Base
Heather Giorgianni, Wildwood Programs
Robert Grande, Turner Construction Company
Kevin Gutman, Bennett Contracting, LLC
Blake Hastie-Etchison, Albany Pine Bush Preserve Commission
Kathleen Kanai, Golub Corporation
Gershom Keith, Bonadio & Co., LLP
Michael Logan, Hodgson Russ LLP
Reshma Mulchandani, Marvin and Company, P.C.
Vasso Potter, Berkshire Bank
Gregory Powell, M&T Bank
Jennifer Rice, Beacon Health Options
Andrew Rodrigue, Community Care Physicians, PC
Kristin Schab, MVP Health Care
Amber Schiller, United Way of the Greater Capital Region
Catherine Sliwinski, Unified Court System
Charlie Smith, UHY LLP
Michael Spicer, CDPHP
Brooke Spraragen, Upstate Electric / Schenectady Hardware & Electric
Christa Taylor, The Research Foundation for SUNY
Sara Turoczy, MLB Construction Services, LLC
Adam Van Volkenburg, Citizens Bank
Lisa Wallock, St. Catherine's Center for Children
Michael Zahler, McNamee Lochner PC
Samoria Zurlo, SEFCU
For additional information about LTV, contact Brandi Landy, Director of Talent Development, at 518.431.1414 or [email protected].