News
December 11, 2018
Klein Art Gallery Opens in Downtown Albany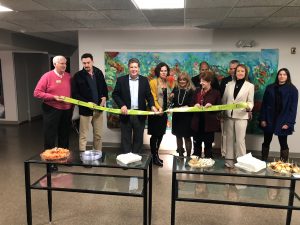 The Chamber, along with its Ambassadors, elected officials, local business owners and friends were all on hand for the grand opening of the new Klein Art Gallery in Albany on Friday, December 7.
Dana Klein is an internationally acclaimed NYC professional artist with studios in New York, Italy and France. She holds a master's degree in fine art history, drawing and painting. Between 1988 and 2001, Klein was director for galleries in Soho and Trump Tower in Manhattan. In 2001, she left for Italy, where she worked in her studio until 2014. During this period, she had numerous throughout Europe, the Middle East, and the United States. Klein Art Gallery and Coffee House was created by Klein in 2014 after her return from Italy.
For her achievements in the art world, Ms. Klein has been awarded numerous prizes, honors and titles including: Dame of Malta of The Order of The Knights of Malta and Guardian of Peace of CCC International (The Confederation of The Knights of The Cross), an international organization based in Assisi Italy that is heavily involved with charity.
The Gallery (originally located in Little Falls, NY) has relocated to Albany and will offer the highest quality of collectible art as well as an exhibition opportunity for local artistic talent. The café will cater to the lunch scene with organic foods, coffees, hand crafted teas, health drinks such as freshly made organic smoothies and juices as well as hand crafted desserts. The cafe will also host Green Tree Boutiques, an exclusive source for great gifts such as famous European fragrances, handmade jewelry, and locally crafted products.
Services and products are offered in an artistic and trendy environment by friendly professionals. Klein Art Gallery and Coffee House hopes to become a permanent fixture in Albany's art and business world and is looking forward to connecting with Chamber members.