News
November 30, 2020
Member Spotlight: Jan-Pro of the Capital District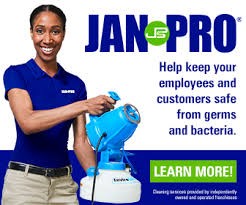 Jan-Pro of the Capital District would like to introduce ourselves to all members! Jan-Pro of the Capital District is a locally owned commercial cleaning company that covers many surrounding counties in our Capital Region footprint. Jan-Pro has been in business within the Capital Region for 15 years and has been able to provide commercial services to more than 500 area businesses. We are a commercial cleaning system much different than others in this area, with a completely different business model. We are franchised owned and operated. This provides exceptional, owner/operated personal quality service for our Customers. Jan-Pro strives to provide consistent quality service by aligning highly qualified and invested owner-operators with receptive commercial cleaning customers. Our individual franchised owned teams provide the service, the results are exceptional.
At this time, we are all preparing for a reintroduction of employees, customers and increased foot traffic. There is now a need for an appropriate reopening plan. Jan-Pro is here to help. We will meet with you to review your needs as an organization, take a look at your space, and come up with a plan that is best suited for your facility. Jan-Pro can provide you with ideas and strategies to keep your facilities clean, disinfected and suitable for the safe return of people back into your businesses. Not only do we use hospital grade disinfectants that kill bacteria and virus', we also provide a disinfecting service called EnviroShield. This exclusive service is applied through a sprayer that through its nozzle it negatively charges the disinfectant, which causes the disinfectant to cling and wrap itself around every surface and item it touches, therefore killing bacteria unseen and out of reach. This disinfectant is EPA approved and has the lowest toxicity level, making it safe for all.
Jan-Pro is grateful to be able to offer our services at this time, especially to the other members of the Chamber and are so happy to be able to provide support in any way that can help keep all of us as safe as possible during this pandemic.
Please contact Katie Bissell, Account Executive, at 518-533-8489 if you would like to set an appointment to review. You can also download their flyer for more information.