News
December 15, 2021
International Center of the Capital Region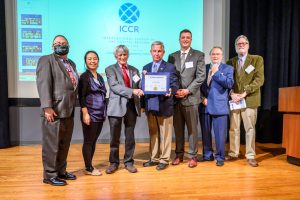 Founded in 1956, the International Center of the Capital Region is one of 84 designated member organizations that host international visitors for educational exchanges, advocating for greater cultural appreciation and understanding. In July 2021, the Center formed a partnership with Hudson Valley Community College and moved their headquarters to Hudson Valley's campus.
As a nonprofit organization, the International Center is known for their long history of bringing people of different backgrounds together, from international visitors to local residents. They recently updated their logo as part of a rebranding campaign. The blue globe and white lines are meant to represent crossroads, as the Capital Region operates at the crossroads between various cultures, technology, economic development, arts, education and more.
Did you know that the International Center of the Capital Region brings dozens of international visitors here for educational meetings? Topics include technology, educational, agriculture and open government. During the pandemic they moved to hosting virtual meetings, but they hope to return to in-person meetings in 2022 and beyond.
As a newer member of the Capital Region Chamber, the International Center looks forward to networking with fellow members, meeting with visitors for potential economic opportunities, as well as sharing best practices about nonprofit operations and fundraising.
Says Executive Director Jennifer Zhao, "My favorite part about living in the Capital Region is the diverse population. We can easily find people of an astounding array of cultural, language, and religious backgrounds. It's always interesting and eye-opening to learn from various people's experiences."