News
May 14, 2019
Helderberg Meadworks Opens New Tasting Room in Duanesburg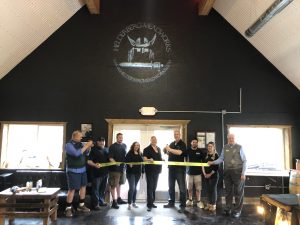 Chamber staff and Ambassadors were honored to cut the ribbon on the brand new Helderberg Meadworks on Friday, May 10.
Peter Voelker is a meadmaker with a BS in Nuclear Engineering from RPI and currently employed as a Compliance Manager. Over the past 25 years, he has been making his own mead; refining the process to a point where it was better than anything he could find in local stores. Over those same years, genealogical research has found that Peter is a descendant of King Harald Fairhair, the first King of Norway.
In 2010, Peter decided to start his own meadery with his wife, Kirsten. The time seemed right to bring his mead to the public. By October of 2011 he made his first sale to a liquor store. Since then, that list of stores has grown to over 150 and covers all areas of NY. But with wholesale distribution comes a lack of customer contact. A tasting room (meadhall) gives HMW a "home" and a place for customers to enjoy the full experience.
In 2015, after an exhaustive search, Peter and Kirsten finally found the perfect location. Still close to home, this once-dairy pasture was now overgrown with 50+ years of disuse. The view, however, remained unchanged. The location is far enough off the beaten path that customers can enjoy a peaceful sunset yet still easily find the tasting room.
At the meadhall, they've created an atmosphere to compliment their mead. It is modern rustic using reclaimed barn wood from local barns combined with the brand's black/white trademark color scheme. They have nearly 20 products, many of which are not available through distribution. Along with their distributed mead line, they also have 2 braggots (beer/mead hybrid), hard ciders, switchel (old farmer's drink), mead cocktails and numerous other different meads.
Helderberg Meadworks also carries their own line of  apparel and "hornware." Drinking horns, belt holders, table stands, horn tumblers, horn mugs and giant drinking horns. All natural.
The flavors at Helderberg Meadworks are deep and complex; sometimes light and subtle, sometimes aggressive. Never simple. They have a couple of dry meads, with zero residual sugar. The new staff is already receiving wonderful customer reviews for being friendly and knowledgeable. Check them out today!