News
August 29, 2023
Hayner Family and Hayner's Ice Cream & Country Store Celebrate 25 Years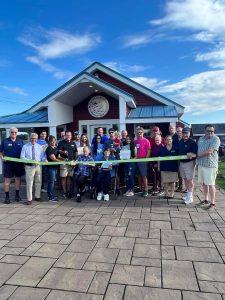 Congratulations to the Hayner Family and
Hayner's Ice Cream & Country Store
(Route 236, Halfmoon) on 25 years serving up goodness and tasty treats for our community. But that's only part of the story. Harvey Hayner's great grandfather bought the land that became the Hayner Farm back in the 1800s, and it was a dairy farm until 1983. Harvey and wife Carol are still with us, and yes he still gets on the tractor once in awhile! The sons run the farm now along with the Store, run by Craig and Carolyn Hayner and their children, the sports barn by brothers Norm and Ken, and the produce is grown and hand picked by one of the grandchildren. So it is still very much a family affair. It was a fun party with music, BBQ and of course sweet corn fresh from the farm, to go with hot apple pie and of course ice cream!!
Halfmoon Town Supervisor Kevin Tollisen was there, joined by wife Rebecca, town board member John Wasieliewski and Deputy Supervisor Paul Hotaling, Town Clerk Lynda Bryan, State Senator Jim Tedisco, Angela Thompson representing Assemblywoman Mary Beth Walsh, and former state Senator and Halfmoon town board member Daphne Jordan. Capital Region Chamber of Commerce Senior Vice President Peter Bardunias and Neighboring Clifton Park Town Supervisor Phil Barrett came by to offer good wishes as well.
All 2023 ribbon cuttings of the Capital Region Chamber and its affiliates are sponsored by the Saratoga National Bank & Trust Company.