News
May 24, 2022
Hatchet Hardware Opens New Store in Wynantskill, NY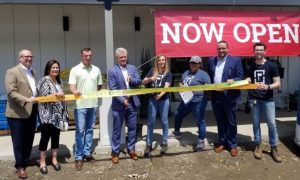 The Capital Region Chamber was excited to take part in the Ribbon Cutting with the Grasso family of Hatchet Hardware, a local authorized ACE Hardware dealer, during their recent soft-launch of their sixth location in the Capital Region at 115 Main Avenue in Wynantskill. Hatchet Hardware is gearing up for its Grand Opening Weekend of the store from May 20 to May 22!
"We are looking forward to becoming Wynantskill's go-to neighborhood Hardware store. Our goal is to have the products that customers are looking for while providing the community with a team of knowledgeable associates that can help with whatever projects they are working on," said Store Manager Jennifer Ross.
The Grasso's opened their first hardware store in New York's Capital District in Brunswick, NY, in 2014, then expanded with the purchase of Pfeil Hardware in Downtown Troy in 2016. In 2020, they opened Hatchet Hardware locations in Waterford and Palatine Bridge, and in 2021, they expanded to the town of Niskayuna. In addition to opening their most recent Hatchet Hardware location in Wynantskill, the Grasso family is also looking forward to opening their seventh store later this month in Colonie and a new branch in Coxsackie this Summer. "Going into 2022, we knew it would be a busy and exciting year with three stores on the horizon, but the hard-working and talented teams in each of our stores make the process so much easier," says Executive Vice-President Angelo Grasso. "When we opened our first location in Brunswick eight years ago, we never thought that we would expand to this point, but we are really excited about the future of Hatchet Hardware, and we hope to continue serving our communities."
About Hatchet Hardware: Hatchet Hardware is a family-owned and operated authorized Ace Hardware dealer with multiple store locations in Upstate, NY. In addition to a knowledgeable, dedicated staff, customers can expect to find everything from power tools and gardening equipment, to gift ideas and house plants, and so much more in between at each all-inclusive Hatchet Hardware location. Learn more about Hatchet Hardware at hatchethardware.com.
###
If you would like more information about this topic, please call Eli Placencia at (347) 296-2271, or contact via email at eli.placencia@hatchethardware.com.