News
February 25, 2019
Hair Razors Salon Spa & Boutique Opens on Upper Union Street in Schenectady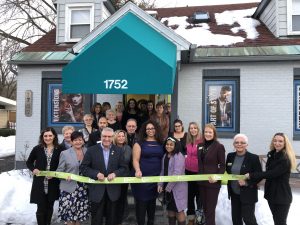 The Chamber had the pleasure of officially opening Hair Razors Salon Spa & Boutique on Friday, February 22. The large crowd consisted of Chamber Ambassadors, local elected officials, friends, family, and clients. It was obvious that Gabryelle Nigriny, owner and operator, had tremendous support from her family and community.
Since she was a child, it has been Gabryelle's lifelong dream to own and operate a salon. From an early age, she was the go-to person for makeup and up-dos.
Gabryelle attended The Paul Mitchell School in Schenectady and has become a national educator for color, cuts and keratin treatments. She also likes to give back as a teacher to young, aspiring students.
Hair Razors Salon Spa & Boutique offers a unique salon experience with relaxing music, fun, talented staff and top-of-the-line professional products. They pride themselves on being the best salon with the best consultation. Hair Razors has been servicing the Niskayuna area since 2004. Now under Gabryelle's ownership, she hopes to take the salon to an even higher level.
Hair Razors is open Tuesday through Saturday with varying hours. Check them out at hairrazors.salon or call them at 518-374-7350.