News
September 15, 2021
Goldman Sachs Reinforces Footprint in the Capital Region and Celebrates Ayco's 50th Anniversary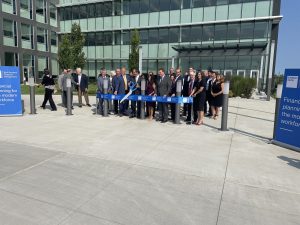 On September 14, the Chamber along with local elected officials, employees and many from the business community took part in a ribbon cutting to celebrate Ayco's 50th anniversary. In addition to the anniversary, the Goldman Sachs owned Ayco officially unveiled their beautiful new space to the public.
Goldman Sachs continues to reinforce its footprint in the Capital Region with the opening of their new office building. The Capital Region has been home to Goldman Sachs Ayco Personal Financial Management since its inception 50 years ago and has provided immense growth opportunity, which the firm values and remains committed to as talent only continues to increase in the area.
Goldman Sachs Ayco PFM is a national leader in company-sponsored financial planning programs for employees, from entry-level to C-suite.
All ribbon cuttings are sponsored by Saratoga National Bank and Trust Company.