News
February 18, 2022
Give the Gift of Nine Pin Cider!
Introducing our new Custom Corporate Bottles!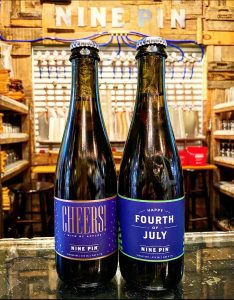 Do you send your employees and/or clients holidays gifts? Send them something truly unique with Nine Pin's custom designed cider bottles. These 375 mL bottles filled with Signature cider make the perfect gift with each label printed in high quality matte with beautiful foiled details. We work with you to personalize and fully customize your bottles. The process is as easy as 1, 2, 3!
Step 1: Select your Main Graphic – Choose a holiday or event. This is your primary, front facing graphic.
Step 2: Select your Supporting Graphic – Choose one of our provided patterns or any text / logo graphics you supply.
Step 3: Select your Background & Foil Color – We can even match your Corporate Branded Colors.
(Optional) Add your company's logo!
Let Nine Pin Cider enhance your next event! Contact Cara Sherwood to order by emailing Cara@ninepincider.com or call/text 518-281-5745.