News
July 22, 2021
Gator's Barks and Bubbles Self Serve Dog Wash Opens in Burnt Hills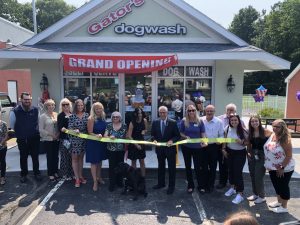 The Chamber had a wonderful time helping Voula Paravalos, owner of Gartor's Barks and Bubbles cut the ceremonial ribbon on Thursday, July 22nd.  The Chamber was joined by Chamber Ambassadors, local delegates and many local business people.
Located in the popular Burnt Hills Café Plaza on Route 50 in Burnt Hills, the state of the art IClean self-serve dog wash offers pet owners across the Capital District an easy and convenient way to wash their pets at a reasonable price.
Gator's Barks n Bubbles utilizes the world renowned IClean dog wash system. The IClean system allows pet owners to stand and wash their dog with little effort for an easy and pleasant experience. The wash tub is equipped with a non-slip material to protect the dog, while the shower automatically mixes the shampoo into the water, making for an even and thorough cleaning. We use only organic shampoo that has been developed especially for dogs. The shower is flexible and can be moved freely so you can reach all bodily parts of your dog. The best way to understand it, is to come and try it!