News
November 25, 2019
Fidens Brewing Company Opens In Colonie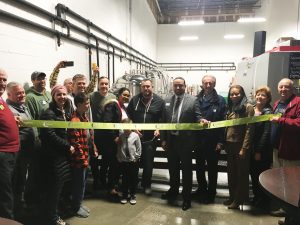 The Chamber was in attendance as we helped Fidens Brewing Company officially open their doors on Friday, November 11th.
Fidens Brewing Company consists of three partners who have worked to create their vision for a new brewery in the Capital Region. Steve Parker is the owner/head brewer responsible for all recipes and brews and is also a physical education teacher in the city of Albany. He's a proud husband and father of three young children and is a self-taught home brewer that has focused on improving his recipes and brewing procedures. Through several experimental batches, he started to create a desirable beer.
Friends Tim Pierce and Michael Carter realized they were craving Steve's home brews as much as other breweries they mutually enjoyed, and so began the conversation about brewing commercially. In March of 2018, Tim and Michael joined Steve at his home and started to draw up the business plan. Tim is a CPA by trade and handles the back-office responsibilities. Michael is financial advisor by day with extensive sales and restaurant experience. He's responsible for sales and managing the tasting room. Fidens is a small business, so in addition to each person having separate responsibilities, there's also an all hands-on deck mentality to assist with various areas of the business and brewing.
Steve, Tim and Michael chose Colonie and Clark Industrial Park due to its open floor plan and convenient location and the fact that there was no other brewery in Colonie.
Fidens is excited about growing and playing a bigger role in the community. Right now, Fidens offers small batch ales and stouts in a small tasting room and fill growlers to go with light snacks. They aim to eventually can their own product and distribute from their brewery. They are currently open Thursday 4 – 8 p.m., Friday 4 – 9 p.m., and Saturday 11 a.m. – 6 p.m.