News
June 1, 2023
Fenimore Asset Management Promotes Shaun Fagant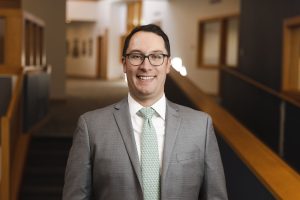 Fenimore Asset Management, an independent, Capital Region-based investment advisory firm and manager of the FAM Funds family of mutual funds, has promoted Shaun Fagant to Regional Director. In his new role, Mr. Fagant will share Fenimore's distinctive investment approach and solutions with individuals, families, nonprofits, small businesses, and other organizations.
"Shaun's extensive experience in working one-on-one with investors and helping them achieve their financial goals should be a great benefit to people in our region," said Fenimore Senior Vice President Anne Putnam. "He is dedicated to service excellence and developing caring, long-term relationships with our investors that are anchored in trust."
Prior to his promotion, Mr. Fagant served on the FAM Funds Shareholder Services team as a Shareholder Relations professional. Previously, he was a Team Leader at Ayco (a Goldman Sachs Company) overseeing a group of financial planners. Mr. Fagant has more than 17 years of financial planning experience and earned his master's degree in Business Administration from the University of Massachusetts.
Founded in 1974, Fenimore Asset Management is an independent, nationally recognized investment manager with more than $4.08 billion in assets under management (as of 3/31/2023) through its Cobleskill and Albany offices. Fenimore offers both individually managed portfolios and a family of mutual funds (FAM Funds) that can be used for retirement and other long-term investment planning. The firm's team focuses on in-depth research, investing in carefully selected quality businesses, and providing its investors with highly personalized investment services.