News
April 27, 2021
Entrepreneur Boot Camp Helps Local Entrepreneurs Develop Business Plans Amid COVID-19 Pandemic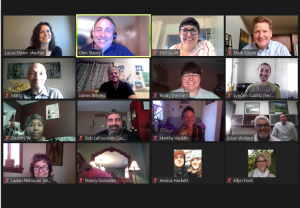 Nine Capital Region entrepreneurs have built a foundation to expand their businesses following their successful completion of the Capital Region Chamber's 60-hour award-winning Entrepreneur Boot Camp training course, specially designed for starting and growing businesses.
"This semester's entrepreneurs should be commended for their hard work, dedication and resilience. Completing this class, and in some cases, launching a business, in the middle of a pandemic speaks to their passion and commitment," said the Chamber's Vice President of Business Growth, Laura Mann.
The entrepreneurs graduated from the Chamber's spring 2021 boot camp course during a ceremony held via Zoom due to the COVID-19 pandemic.
During the virtual event, Jay Singh from Sunmark Credit Union presented James Blevins of Diamond Pools a cash grant of $3,000 and a one-year Capital Region Chamber membership. Diamond Pools is a swimming pool service company serving the Capital Region that specializes in high quality, recurring pool maintenance and pool-owner educational services at competitive rates.
Teddy Corah of Zuzu Brite was presented with a $1,500 check from Whiteman Osterman & Hanna LLP and also won a Ricoh printer from Repeat Business Systems. With a tagline of "alternative fashion for an alternative world", Zuzu Brite is one-of-a-kind alternative fashion brand based in Schenectady that provides unique, high-quality apparel items for plus-size fashion lovers of any gender who seek to express themselves through wearable art. The business' core purpose is to encourage people to explore their gender identity through fashion with well-made, sustainable clothing sold by body measurement. The sizes offered are tailored to the plus-size community, where many individuals struggle to find fashion pieces that are well made and fit properly.
Martha Houghton Hacklin of Jefferson Art Room won two classes from MicroKnowledge and a 3-credit class of choice from SUNY Schenectady County Community College. Jefferson Art Room (JAR) is a community art room space that will be located in the town of Jefferson, NY. JAR will contribute to an emerging renaissance in the town by providing a space for young and old to grow skills through hands-on art classes and creating unique opportunities for these individuals to work with local, established artists and tradesmen/women.
Mark Eagan, President and CEO of the Capital Region Chamber, was Master of Ceremonies for the event and the keynote was delivered by Nancy Gonzalez, Owner, Kona Ice of Clifton Park and Entrepreneur Boot Camp graduate. Shoprite offered scholarships to military veterans again this year.
The award-winning 10-week course, taught through the Chamber's Entrepreneur Boot Camp Training Course, educated entrepreneurs on the critical skills necessary for business growth and expansion. The classes blended classroom and individual training with lectures by prominent business experts. Special guest lecturers covered topics including branding, advertising, legal issues, market research, demographics, sales, financing, leadership, diversity and inclusion, social media, presentations skills, accounting and more.
Spring 2021 Entrepreneur Boot Camp graduate businesses/entrepreneurs include:
James Blevins, Diamond Pools
Teddy Corah, Zuzu Brite
Lyndon Cudlitz
Jessica Hackett, Wolf Hollow Home Inspections
Martha Houghton Hacklin, Jefferson Art
Bob LaFountain, Cash Flow with Benefits
Adam Steinberger, Akmaz.io
Dragana Thibault, Livingston Energy Group
Erin Wulff, Wolf and the Dreaming Tree
Entrepreneur Boot Camp is supported by the Capital Region Chamber and the Empire State Development Corporation's Entrepreneurial Assistance Program. Sunmark Credit Union is the presenting sponsor. For more information about the program, contact Vice President, Business Growth Laura Mann, at 518.431.1430 or by email at lmann@capitalregionchamber.com.
The fall 2021 Boot Camp begins September 13, 2021 and registration is now underway on the Chamber's website.