News
July 27, 2018
Dudley Observatory Opens at miSci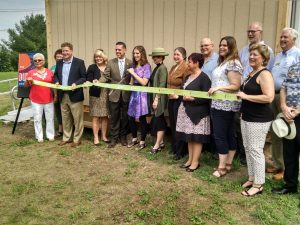 On Friday, July 27th the Dudley Observatory was officially opened at miSci in Schenectady.
The Dudley Observatory is the nation's oldest non-academic institution of astronomical research, having served the scientific and Capital Region communities since 1856.  The Dudley Observatory building was previously located in Albany, NY – first on "goat hill" from 1856-1873, next in Dudley Heights from 1892-1893, and then on South Lake Avenue from 1893-1963.  In 2015, the Dudley Observatory entered into a partnership with miSci – the museum of innovation and science – to secure a home for its equipment and archives of astronomical work, and to provide astronomy and science education for all ages.  The Dudley Observatory continues its rich history of employing women scientists, as noted by Dr. Heidi Newberg's current service as chair of its Board of Trustees and Dr. Valerie Rapson in the role of Outreach Astronomer.
The Dudley Observatory's newest 16 by 20-foot building has been constructed on the miSci campus on Nott Terrace Heights in downtown Schenectady and is outfitted with a roll-off roof and state-of-the-art 14-inch Schmidt-Cassegrainian telescope, suitable for both solar and night sky observation.  The Dudley Observatory will be open during "Sunny Sundays" on Sunday afternoons and "Night Sky Adventures" on Thursday evenings beginning in September 2018, as it endeavors to become the community learning facility envisioned by the many trustees, staff, public officials, donors and community members who made today's grand opening possible.