News
July 27, 2018
Draper Lofts Breathe New Life Into a Vacant Building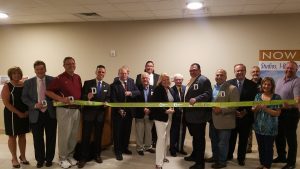 The Chamber was on hand to celebrate the official opening of Draper Lofts on Thursday, July 26th.
Draper Lofts Apartments offers modern comfort with historic charm. The community is an adaptive reuse of the formerly vacant Draper school building in Rotterdam by Sunrise Management & Consulting and company President Jesse Holland. Construction is almost complete on the 111 apartments ranging in size from 625-1,400 square feet. The studios, 1-bedroom, and 2-bedroom floor plans rent for approximately $865-$1,520/month.
Draper Lofts creates a stunning combination of original detail and modern amenities. "We have a variety of floor plans that use the architectural features inherent in a building of this age and style," said Holland. "Apartments take advantage of the design of the old school and some will offer oversized windows, light-filled rooms, and high ceilings. Modern amenities include stainless steel appliances, microwaves, and nickel-finish features. Besides their apartments, residents can enjoy a community room, fitness room, courtyard, and the convenience of a walkable residential community with nearby shops and restaurants."
For more information on Draper Lofts Apartments, visit www.DraperLofts.com.