News
September 12, 2019
Dozens of Adults Enrolled in the Capital Region BOCES Adult Nursing Program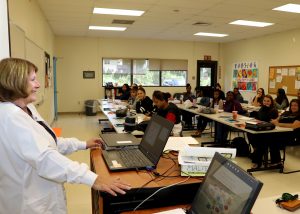 More than 140 adults are looking to change their careers or bolster their employability through the Capital Region BOCES Adult Practical Nursing program.
The 146 adult students range from those fresh out of high school to adults looking to launch a new career.
It's the second consecutive year of enrollment numbers exceeding 140 students.  Last year 160 were enrolled at the start of the program, up from 106 in 2017. Enrollment has steadily increased in the full-time program since 2000 when just 47 students were enrolled.
The Adult Practical Nursing (APN) program began on Friday at the Capital Region BOCES Albany campus and continue into June when the program will graduate its students into the world of being a licensed practical nurse (LPN). The New York state-approved APN program encompasses 1,100 hours of classroom and clinical study and practice and prepares students to take the National Council Licensure Examination and apply to become a New York state LPN.
This year's crop of students include Ebony Watson of Clifton Park who decided it was time to change careers from teaching.
"My family is filled with nurses and I want to make my family proud. I was teaching children with disabilities, but I felt like I had to be a nurse and I just want to help people. I feel like I am called to help people," she said.
Also enrolled in the program is Carson Drake of Ballston Spa.
"I am tired of going from job to job and not making my own choices about what I want to do. I am sick and tired of being sick and tired. I chose nursing because I can help people and it's a career I can enjoy and provide for myself," he said.
Indeed with 11 percent growth in demand forecast by the U.S. Bureau of Labor Statistics for LPNs over the next decade and a median salary of $46,240 in 2018, LPNs are in demand and rewarded for their skills.
"We've had really good candidates come out of these programs; we had a number of hires from this career fair in the past year and I see no reason why this year will be different," said Celeste Conte, a recruiter for Albany Medical Center.