News
January 24, 2019
CoveyCS Opens New Location in Historic GE Building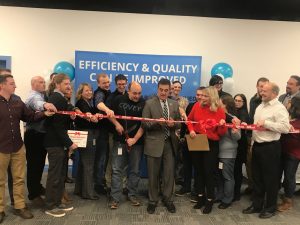 CoveyCS recently moved its location to 901 Broad Street in Utica, NY. The historic building previously housed the GE radar testing facility, but is now home to CoveyCS and other businesses. The Chamber was honored to be invited to the grand opening/ribbon cutting celebration on Friday, January 18. Local elected officials and The Greater Utica Chamber of Commerce were all on hand to welcome CoveyCS into the historic building.
Updates to the new office, completed by K&V Construction Home Improvement, included window expansions for improved lighting, a modern conference room for hosting clients and meetings, and an updated entryway to greet clients and visitors.
CoveyCS specializes in software and technology consulting, product development, custom software solutions, and software maintenance. With each service they provide, they offer their customers technical and business expertise that permeates every step of their development. Their expertise translates into precision software and perfect service. Choosing CoveyCS puts your product or service on the path to success.